Patricia Raybon, a former Sunday Magazine editor at The Denver Post and former associate professor of journalism at the University of Colorado at Boulder, is the award-winning author of bridge-building books on faith, race and grace. She's the author of the racial forgiveness memoir, My First White Friend (winner of the Christopher Award), a prayer memoir, I Told the Mountain to Move (2006 Book of the Year finalist at Christianity Today), a One Year® daily devotional study of Bible virtues, God's Great Blessings, and a mother-daughter interfaith memoir, Undivided: A Muslim Daughter, Her Christian Mother, Their Path to Peace. Her personal essays have been published in the New York Times Magazine, Newsweek, USA Today, Country Living Magazine, Chicago Tribune, The Denver Post, Guideposts, Our Daily Bread, In Touch Magazine, Christianity Today, the Washington Post's "Acts of Faith" blog and aired on National Public Radio. A Bible enthusiast, Patricia supports Bible-translation and literacy projects worldwide through Wycliffe Bible Translators, her favorite charity. A mother of two and grandmother of five, she and her husband Dan live in Colorado, her beloved home state. She welcomes visitors and friends to patriciaraybon.com
There's a lot to say these days about how faith reframes the rough and tumble of everyday life.
That's where you and I come in. If you're looking for a speaker for your ministry, conference or workshop, I focus on Christian life and encouragement, racial healing and cross-cultural bridge building. I also teach faith and memoir writing at writing workshops and conferences nationwide.
To see my speaking topics, please scroll down below. I'd be honored to serve you.
"Your writing and speaking are both so refreshing because of your honesty and straightforwardness. I have already received much positive feedback."

Pastor Wayne 'Coach' Gordon, Lawndale Christian Community Church, Chicago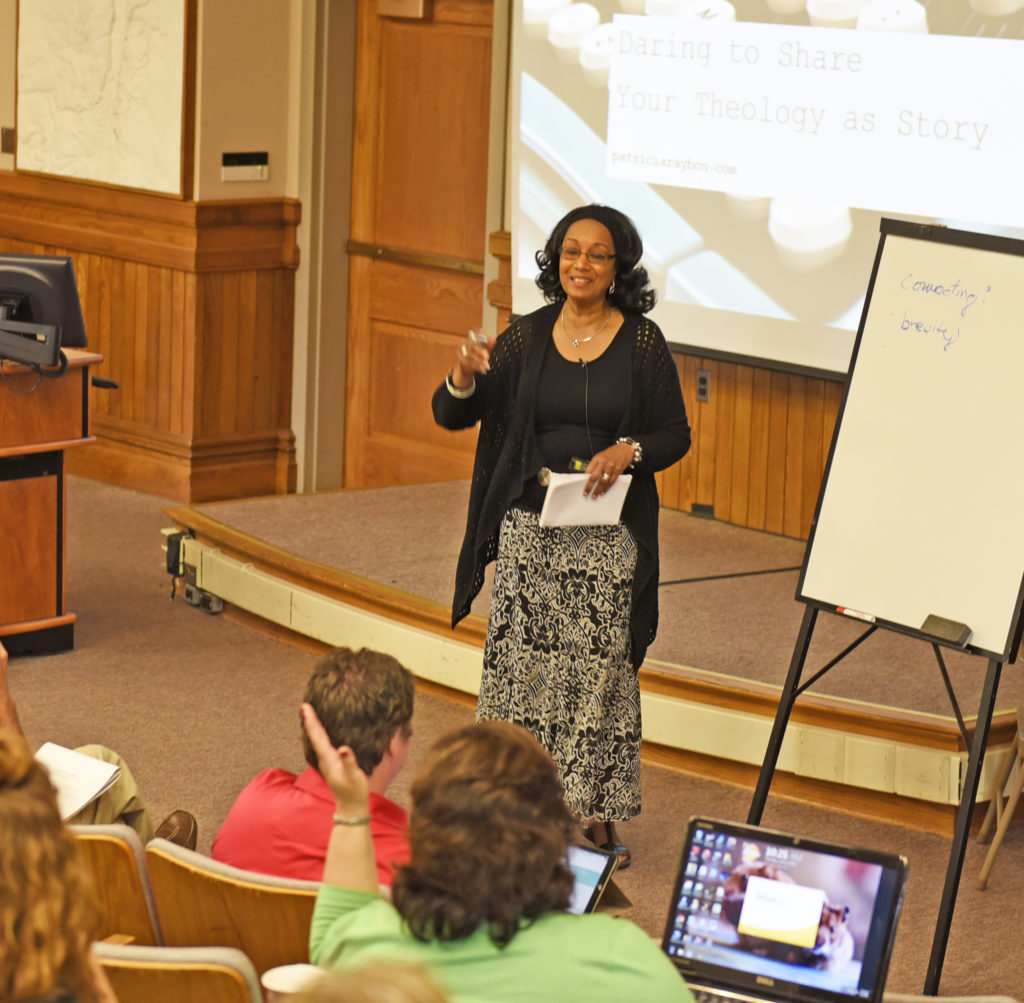 In 2015 and 2016, I taught workshops or delivered keynotes at venues all across the country, including:
Ministry of Writing Colloquium (Earlham School of Religion)
Festival of Faith and Writing (Calvin College)
Q Conference (Denver)
Frederick Buechner Writing Workshop (Princeton Theological Seminary)
Greater Philly Christian Writers' Conference
Colorado Christian Writers' Conference
Women Engage (Denver Seminary)
Writers on the Rock Conference (Denver)
Mosaic Foundation (Denver)
Rotary Club Southeast Denver
Discover the Word Radio (Grand Rapids, MI)
United Methodist Women (Colorado)
The event was a resounding success, and your presence and expertise led the way.

Brian Allain, Founding Director, Frederick Buechner Center
Thanks for your wonderful talks. It was a privilege to hear original thinking, born of deep conviction. I'm so glad you could join us.

Ben Brazil, Director, Ministry of Writing Colloquium, Earlham School of Religion
If your group would like me to speak at your event, just connect with me on my Contact Page.
My speaking fees vary based on your budget, venue, amount of preparation needed and the distance from Denver–my point of origin. I'm flexible, committed to passion and engagement, and I value working cooperatively to meet your group's vision and needs. So reach out and connect. We'll put a workable plan in place.